Description
When Words are Not Enough explores the many ways that bereaved families find to express their loss. The authors' son was killed in a traffic accident in 2011. Ten years on they reflect on their journey and how they have used their creativity to survive their grief and maintain an on-going relationship with their son Josh.
'When Words are Not Enough is our attempt to bridge the divide between the silence that surrounds grief and the lived experience of the bereaved.'
Jane Harris 
Beautifully illustrated,the book explores their own responses to Joshua's death along with contributions from 13 others who have also found solace from doing and creating new things following the death of a loved one.
'Over time we have come to realise that our grief has been a series of creative acts.'
Jimmy Edmonds
Throughout history people have needed to talk about their grief, but much in contemporary society tells us that grief is a depressing, morbid subject. When Words Are Not Enough is a necessary counterweight to those who would have us hide grief away. In both word and image, all the stories told here, from visual story tellers who reimagine their loved ones depicted in their own lives now, to artists who have taken their children's artworks as a basis for their own creations, to those who have found peace in their music and their poetry, to some who relish the challenge of diving into cold waters as a way of connecting with their children. All are very different and uniquely creative responses to trauma following the death of a loved one and testament to the value of a shared and more openly expressed grief.
Everything we do to attend to our grief, the authors claim is about accommodating the loss of a loved one into our on-going lives, of filling the void left by their absence. Almost by definition grief, they argue, is a creative process. It's about making something new, something that didn't and couldn't have existed unless they had died.
With a foreword by Dr Kathryn Mannix, author of With the End in Mind and Listen. 'This is a book about sorrow, yet it is brimming with hope. This is a book about loss, but it overflows with love and generosity. The community of bereaved people is as diverse as humanity itself, and this book is a gathering of their wisdom, guided and curated by the creative talents and parental grief of Jane Harris and Jimmy Edmonds.'
'The word I keep coming back to with this book is beautiful, not a word I would usually associate with grief. But this book is rich in detail and compassion, it is authoritative and kind. Through their immense loss and pain Jane and Jimmy have done an extraordinary thing and redefined grief as love turned inside out. They make grief less scary. I have not read a better book on grief.'
Annalisa Barbieri, The Guardian
'Such an inspiring book – full of moving stories of people who have found active ways to respond to their grief, from photography through to (my favourite) cold-water swimming. Jane and Jimmy's ten 'lessons learned' about the loss of their child wisely reject any idea of 'moving on' or 'closure'. Indeed, this beautifully designed creation is itself an example of what the book is all about.'
Professor Sir David Spiegelhalter, Statistician, University of Cambridge
ABOUT THE AUTHORS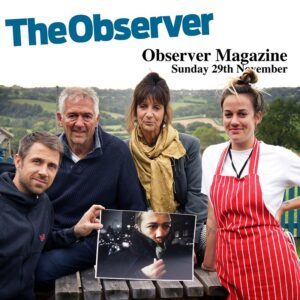 Jane Harris is a psychotherapist, bereavement specialist and public speaker with special interest in family relations. Jimmy Edmonds is a photographer and documentary film editor with over 100 credits on TV productions including the BAFTA winning 'Chosen' for Channel 4 and his own personal film 'Breaking the Silence' for BBC 1. Together they have created The Good Grief Project, and produced several films including Gerry's Legacy, Beyond Goodbye, A Love That Never Dies, Say Their Name, and Beyond the Mask. They have two surviving children Joe (a Personal Trainer) and Rosa (an Assistant Film Producer) both of whom are part of the team delivering the Active Grief Weekend retreats.
When Words are not Enough is available from October 2022. Now available as an ebook